Suffering From Long Covid? We can help you..
See the below details about our Long Covid Support Group: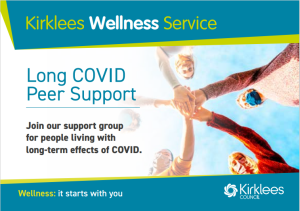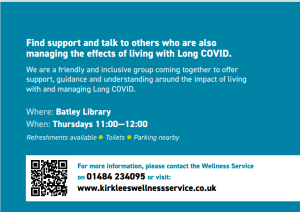 Symptoms of Long Covid:
While most people who contact Covid will recover in the first few weeks of their symptoms and will be fully recovered within 12 weeks, it is estimated there are around 1.5 million people in the UK living with Long Covid, (also known as Post Covid Syndrome).
Recovery from Long Covid varies. People who had mild symptoms at first can still have long-term problems and the chances of having long-term symptoms does not seem to be linked to how ill you are when you first get Covid. Many people, including younger people, who were fit and healthy prior to having Covid, now have debilitating symptoms that affect their quality of life and ability to carry out their normal daily activities. This can also impact on carers, family and friends.
Long Covid is a new illness and there is still a lot of research being carried out. Symptoms vary from person to person and are wide-ranging and fluctuating and can include breathlessness, chronic fatigue, brain fog, anxiety and stress.
Whilst there is still some uncertainty around Long Covid, one thing that can really help, is to connect with others who are going through something similar and can emphasise and understand what you are experiencing.
Comments from some of our peer support group members:
"It has really helped me being around others experiencing similar things"
"I am not alone anymore"
"I really thought I was the only one going through this"