Wellness Walks
Getting outdoors and walking is a great way to improve both your physical and mental health. Walking as part of a group is also a fantastic way to keep motivated and meet new people.
The Wellness Walks are short, accessible to all and in a location near you. The walks are also free and lead by Wellness Coaches and Walk Leaders who can support and guide you as you become more active.
Generally the walks take place within local parks and or where there are rest places available. The walks are particularly beneficial for people with low fitness levels, low confidence when walking and or those who simply want to enjoy a low level walk in the company of others.
Once people have built up their fitness and confidence to walk they will be encouraged and supported to move into other mainstream walking offers within the community.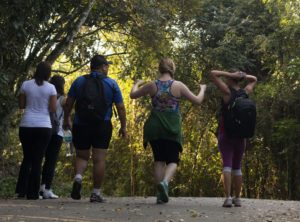 The walks start and finish at the same point, are generally flat and last between 30 and 60 minutes. Don't worry if you are not used to walking or haven't been active for a while, you can go at your own pace and take as many breaks as you need.
All you need is a pair of flat comfortable shoes or trainers, a jacket for if it rains and a water bottle.
To attend any of the walks you must be able to walk independently. If not, you must attend with a carer.
If you have any questions about any of the walks, get in touch with your Wellness Coach or
Email: wellness.service@kirklees.gov.uk
Phone: 01484 234095 
Wellness Walks Timetable
| Location | Meet Point | Day | Start Time | Live Updates |
| --- | --- | --- | --- | --- |
| Greenhead Park, Huddersfield | Cafe by the tennis courts | Wednesday | 12:30 meet for 12:45 start. | Ongoing |
| Wilton Park, Batley | Car Park between the pond and cafe | Thursday | 1:30 | Ongoing. Cancelled 30/11/23 due to slippery conditions |
People attending the walk have said…
'It has helped by getting out of the house for a walk, meeting new people and having new conversations'
'This group has helped very much as a get together after covid. The group also helped with making friends and talking'
'The group has helped me to get out of the house, to give me a better life and help with my anxiety'
'The sessions are friendly and supportive'
'I have made new friends'