Wellness Service Health Checks
 If you live in Kirklees and are aged between 40-74, you could be eligible for a Free Wellness Service Health Check with one of our qualified and friendly Health Coaches. 
A  Health Check is an important part of looking after your health and is designed to spot early signs of heart disease, type 2 diabetes, stroke and dementia. As we age, the risk of developing one or more of these conditions increases. In addition, there are certain factors that put you at greater risk, including: 
High blood pressure

 

 

High cholesterol

 

 

Being overweight

 

 

Lack of physical activity

 

 

Smoking

 

 

Drinking too much alcohol  
The good news is that a Wellness Service Health Check measures these factors, helps you to understand your individual risk and importantly, what lifestyle changes you can make to reduce your chance of developing heart disease, type 2 diabetes, stroke and dementia.  
What is involved?
A Health Check is an opportunity to chat to an accredited Health Coach who will discuss your health with you and complete the following checks : 
Body Mass Index (Height & Weight)

 

Blood Pressure

 

Cholesterol

 

Average Blood Glucose (HbA1c)

 

Physical Activity Levels

 

Smoking

 

Alcohol

 
The appointment lasts approximately 30 – 45 minutes and gives you the opportunity to chat about your results and identify potential lifestyle changes that may prevent future ill health. You will receive a personalised booklet that explains each check, your results, and steps that you can take to improve your health.  
Should any of your results indicate that you may benefit from additional support or tests, we can refer you directly to your GP.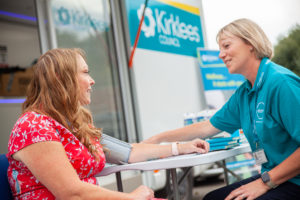 Am I eligible?  
To be eligible for a Wellness Service health Check you must be a Kirklees resident, aged between 40-74 and NOT have any of the following pre-existing conditions: 
Heart disease

 

Chronic kidney disease

 

Diabetes

 

High blood pressure

 

Atrial fibrillation

 

Transient ischemic attack

 

Inherited high cholesterol

 

Heart failure

 

Peripheral arterial disease

 

Stroke

 

Currently being prescribed statins to lower cholesterol

 
You would also NOT be eligible if previous checks have found that you have a 20% higher risk of getting cardiovascular disease over the next 10 years 
If any of the above applies, you should already be receiving regular check-ups from your health care team. If this is not the case, please contact your GP Surgery. 
When you request a Health Check you will be asked some questions to determine your eligibility. If you are eligible a member of the team will be in contact to arrange a date and time. 
Where can I get a Wellness Service Health Check?
Wellness Service Health Checks are available in accessible community venues across three areas of Kirklees from the week beginning November 8th2021. See below for further information regarding dates and times. You can request a health check here. 
Day 

 

Time 

 

Venue 

 

Monday 

 

8:30am – 4.00pm

 

KAL Batley Sports and Tennis Centre, Windmill Lane, Birstall, Batley, WF17 0QD

 

9.00am – 5.00pm 

 

Chestnut Centre, 

2a Chestnut St, Sheepridge, Huddersfield HD2 1HJ

 

 

1.00pm – 4.00pm

 

Drop By Community Resource Centre , 12 Sycamore Court, Longwood, HD3 4SS

 

 

Tuesday 

 

8:30am – 13:00pm

 

Northfield Hall, 

40 Norfolk Ave, Huddersfield HD2 1GS

 

 

9.00am – 12.30pm 

 

Al-Hikmah Centre, 28 Track Road, Batley, ; WF17 7AA

 

 

9.00am – 4.00pm 

 

Jubilee Centre, Market St, Paddock, HD1 4SH

 

 

Thursday 

 

10.00am – 5.00pm

 

Lindley Library, 

Lidget St, Lindley, Huddersfield HD3 3JP

 

 

8.30am – 4.30pm 

 

Jo Cox House, Batley, WF17 5DS 

 

 

10.00am – 1.00pm 

 

Lockwood Baptist Church, 

252 Lockwood Rd, Lockwood, Huddersfield HD1 3TG 

 

 

2.00pm – 6.00pm 

 

Almondbury Library, 

Farfield Rd, Almondbury, Huddersfield HD5 8TD

 

 

Friday 

 

                    

9.00am – 12.30pm 

 

Piazza Centre, 

Princess Alexandra Walk, Huddersfield HD1 2RS

 

 
If you would like further information or the opportunity to chat to a Health Coach about the Wellness Service Health Check, please contact the Wellness Service on 01484 234095